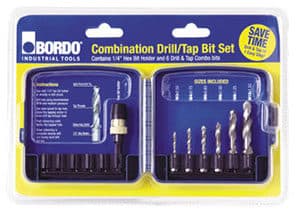 We are happy to announce we now have Bordo Drill and Tap Combination Sets available through Crossroad Distributor Source.
Features and Benefits of Combination Drill Taps –
• Save time! Drill, tap, and deburr in one operation.
• One-piece drill/tap guarantees correct drill for tap size.
• Tapered design prevents thread damage from over drilling.
• Made of high speed steel for long life.
• After completing tap, reverse the drill to back out.
• Use of cutting oil recommended.
• Clean tap of metal chips to extend life.
• Capacity: 10 gauge (3.5mm).
NOT FOR USE WITH A MAGNETIC ADAPTOR
To learn more and see all of the available sizes, visit the product page below.