Electrical Black Book
Electrical Black Book
Part No.: ELBB-USA-NEC14
| | |
| --- | --- |
| Description | Electrical Black Book |
| Barcode | |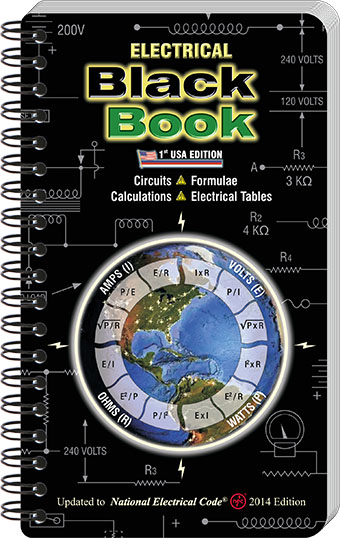 The Electrical Black Book — NEC 2014 Edition, newest in the Series, contains 225 pages focusing on all things electrical including:
National Electric Code Tables
Electrical laws and formulae
Safety
Lighting, Circuits, Enclosures, Receptacles, Cables, Conduit
LED and Fiber-Optics
Switches and Contacts
Data and Telephone Cabling
Measuring devices
Transformers
Motors and much more …
Pictorial representation and/or electrical circuits are included in the book wherever possible. A complimentary Digital MultiMeter is included with each book.
Please note that it is by no means a substitute for the National Electrical Code®. Up-to-date information and current NEC® tables have been reprinted with kind permission from NFPA70-2011, National Electric Code© Copyright © 2010, National Fire Protection Association, Quincy MA.